Experience Japan's traditional Yosakoi festival but with Caribbean carnival vibes!
Yosakoi festival started in 1954, and is now the biggest parade-style festival in Japan.
Come join our special carnival band at Yosakoi Festival, the one and only team combining Japanese tradition and Caribbean carnival culture. We are now in our 11th year, and will be performing this year again in commemoration of Tokyo Olympics and Paralympics 2021.
We have limit for the number of applicants so hurry and don't hesitate- you won't see this else where!
Why did selector HEMO start a carnival band in Japan?  
Selector HEMO visited Trinidad & Tobago for the first time in 2000 and found out that the carnival in T&T is very similar to the Yosakoi festival in Kochi where she was born and raised. She thought it would be a great idea to collaborate Trinbago carnival and Yosakoi festival. Finally in 2008, the carnival band in Yosakoi called "CANAVAL" was formed, which she had long kept planning. Without Selector HEMO, there would be no Soca and Caribbean style celebration within a traditional carnival in Japan. Of course there is the popular and stable dancehall culture but the initial and continued rise of Soca to Japanese can primarily be attributed to Selector Hemo. One of the major highlights of Soca scene in Japan was MachelMontano's performance and participation in Yosakoi (Japan Carnival) in 2017. Selector Hemo and her crew continue to be a pioneer for Soca culture in Japan through connecting other international artists and playing Soca music internationally.
Quote from ILOVECARNIVAL
What is the Yosakoi Festival? (Japan Carnival) 
The Yosakoi Festival is a summer festival held on August 10th and 11th in Kochi City, first started in 1954. People dance passionately to the music at 15 dancing spots, it's almost like a Carnival! During this festival, 20,000 dancers with Naruko clappers parade around the city, performing dances with full of energy, cheer and color. Participants are free to choose a team(band) which have their own costume and choreograph (each team have original dances), giving the Yosakoi Festival a unique atmosphere that forms part of its appeal. These dances have also been performed outside of Japan to showcase the wonderfulness of this festival to countries around the world. 
The most interesting part of Yosakoi Festival is that each team has their own costumes and choreography, bringing their own style to the performance. Of course, the ornately decorated music trucks called Jikatasha, are another fun element of the celebration.
The whole town center turns into a powerful live-house performance of dance and music – something close but different from Caribbean style carnival you need to experience for yourself.    
▼Japan Carnival  "CANAVAL" 10th Anniversary  Machel Montano , selector HEMO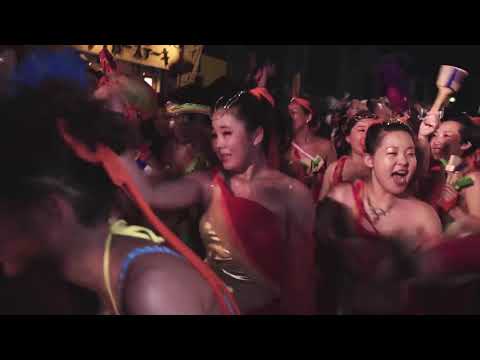 ▼Machel Montano 2017 Japan Tour – Recap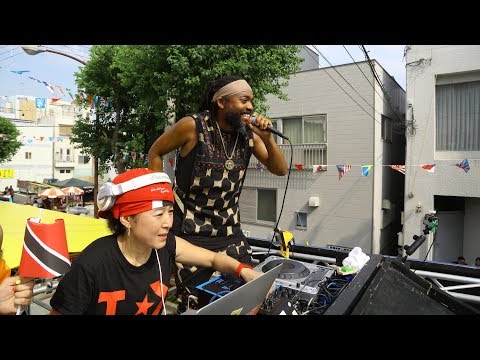 ▼かなばる ~2017高知よさこい祭り・本祭2日目(中央公園競演場)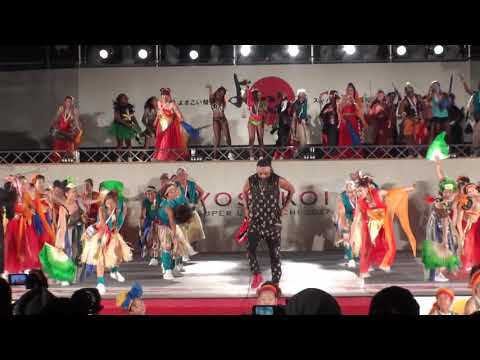 Where does it take place??
It takes place in Kochi city, one and a half hour plane ride from Tokyo. We recommend to fly into either Narita Airport (NRT) or Haneda airport (HND). Both airports are in Tokyo, so that you can explore Tokyo and then to Kochi.

Is there a package?
Yes! We have a package tour from the airport in Tokyo. Details to be announced soon.
---
<2017  information>
join us!!!
CANAVAL is a Mas Band that performs Trinidad & Tobago's carnival dance with soca music at Kochi's famous YOSAKOI Festival (Carnival). Kochi and T&T has so much in common like its climate, people's energy and most of all, the carnival vibes. Why not join us and wine together ?
Contact us at : http://www.facebook.com/canaval.yosakoi https://canaval-yosakoi.com/
Kegon, who is originally from Trinidad and now living in America, joined "CANAVAL" last year and gave us his experience report. We "CANAVAL" are very welcome for not only Japanese but also foreigners!!
 Kegon's   Report!!
Born and raised in Trinidad and Tobago Soca and Carnival remains an important part of my culture and livelihood. I've been to many Carnivals around the world, and always seeking to experience the uniqueness of them all. Last year, after going Trinidad, Berlin, Toronto, Philadelphia, and Washington D.C carnival, I made my way to Japan "CANAVAL." Japan CANAVAL is one of the most unique Carnivals I experienced outside of Trinidad.

It's somewhat of a hybrid between Berlin, Brazil and Trinidad Carnival. Berlin, because Japan CANAVAL is a mas truck that joins a preexisting parade. Brazil, because there is choreography involved. Lastly, Trinidad, because of the stage judging points, Soca, and various other elements as they stated, "inspired by Carnival of Trinidad and Tobago."

I'm not a dancer by any means. Being a Trinidadian, all I know is jamming on a bumper and whining. But surprisingly, learning the dance moves and later performing it in front of thousands of Japanese fans was incredibly fun. CANAVAL uses a combination of Traditional Japanese music and Soca music. This added a level richness to the choreography, trying to blend dancing routines to both sounds.

Much like Trinidad, there are various judging points or "stages" along the road. Revelers, or "dancing people" as they call themselves, are encouraged to perform their best on these stages. Individual revelers are quickly rewarded upon clearing the stages with various levels of medals according to how well they performed. I happened to get two bronze medals — not bad for a rookie dancer!

The two-day festival includes food and drinks, including alcohol. But, I would strongly advise to drink slowly, because you don't want to be wasted and trying to do the choreography. Prior to each stage, there are a few minutes of free dancing, do what you want and free up to unchoreographed Soca music. However, it's near the end of day 2 of the parade the choreography ends, and people do whatever they want. Water, powder and all the other elements to just party hard.

I truly had a good time for the two days on the road partying to Soca and Japanese music. I never imagined I would be going to a Carnival in Japan. This year I plan to attend again, and I'm bringing others with me to enjoy this wonderful experience.

Kegon